Have Beehive On Your Property? Contact Us For Quick Control!
Are you facing issues with the bee infestation on your property? Contact City Wide Pest Control Company and get the best services to get rid of bees and beehives. Our team is here to offer the best quality bee removal services in Kenwick that are going to be promising. To solve your concerns all you need to do is contact us and get in touch with our team. Using the most efficient and effective bee extraction methods, our team can find the most practical solutions.
In case you have any queries or concerns regarding the services or about the beehive relocation, Contact our expert bees removal Kenwick team. Having bees on your property can be very annoying. For this reason, you need to seek expert services for their removal, to get rid of them as soon as possible. For this, you can contact us at 0488 851 508 to make your appointment today!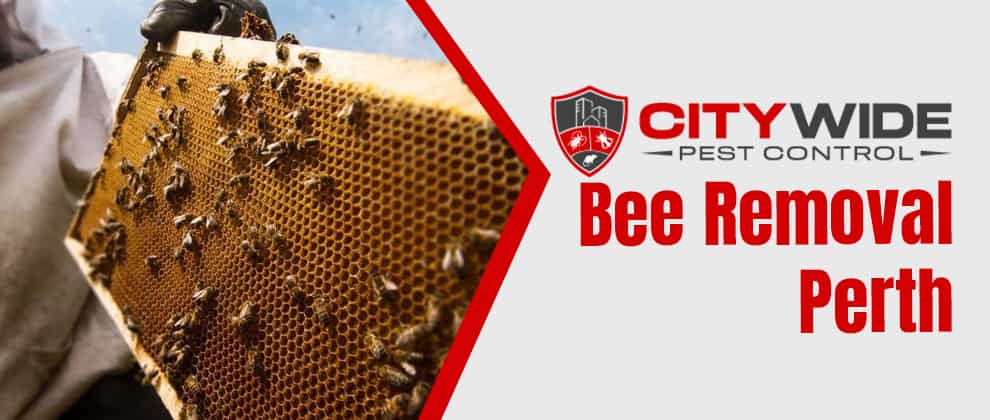 Different Types of Bees That We Can Remove!
There are several types of bees that our team can deal with! If you ever plan on removing bees from the house, you can rely on us. Because our team is the perfect choice for your concern. For bee swarm removal, we use services that are customized. Depending on the type of bees that are causing the infestation, we use the tools and methods that will give maximum results. Our bee exterminators in Kenwick can deal with the following bee types:
Honey Bee (Apis mellifera): Honey bees are the type of species that are seen on a day-to-day basis. Though they are easily traceable, dealing with them can be a tough job. Using the best heat treatment, we help in getting rid of the honey bees with our honey bees relocation services. We also perform the beehive relocation.
Bumble Bee (Bombus spp.): These are the robust and hairy types of bees that most people are allergic to! Since it's difficult to deal with them, our bee removal team is here to offer assistance to you. In no time, our team can effectively get rid of the bees from your property. So get our services right away!
Carpenter Bee (Xylocopa Virginia): These are the bee type with smooth abdomens and a blackish-blue colour body. It can get difficult to deal with them. But it is important to get rid of them anyway. Hence getting our assistance is going to be helpful.
How Do We Manage The Bees?
We are aware of the fact that bees are most commonly found around flowering plants. This is because they feed on pollen grains and are mostly seen in your lawns or gardens. So, our team offers bee removal services in Kenwick that are extremely beneficial in making your property free from bees. Here is what we do:
Inspection Of The Area Of Beehives: To obtain the best results, inspecting the property thoroughly is necessary. So our bee exterminator begins the treatment with the help of detectors that can identify their presence and the source of bee infestation. During the inspection, our team will inspect the location and also the places where they build their habitats, i.e. Beehives. So, we look around the areas with old wood logs, tree branches, fences, etc and create a report.
Removal Of Bees Around: After we receive the inspection report we can spot the bees. Then we initially remove the free-flying bees. Using the fogging method, we remove the bees around and also further proceed to remove the beehive.
Removal of Beehives: For the beehive relocation, we don't have to destroy the hive but can relocate it to places nearer to its natural habitat. This will make it very easy for you to make your property free from bees.
Destroy The Hive, If Required: In case the relocation of the bee hive is not possible we go for destroying the hive. This will even prevent the attraction of other bees to your property. Hence it is ideal to go for beehive destruction when there is no better option.
Final Inspection: After offering the treatment our bee removal team will now perform a final inspection to make sure that your property is free from bees and their remnants.
Check How The Bee Hives Are Built
A beehive is generally built using bee's wax which is made out of honey. Honey bees have wax-producing glands that are crucial for the building of beehives. Honey bees usually create their hives in hollow spaces and cavities. They also ensure that their hive can withstand harsh climatic conditions well. Beehives are usually found around trees and attics, wood logs, hollow trees etc. Therefore, you can mostly observe them around these and also a high number of bees around. In case you come across these, there is a high chance that your property is having a bee infestation.
We Offer Same-day Bees Removal Kenwick Services Without Any Delay!
City Wide Pest Control is a local one, that offers bee removal services across all the regions of Kenwick. The services are quite prompt and will be made available to you in no time. For same-day services, you can contact us. Our customer care team is available 24/7, for making your bookings. Once we receive your booking request, our team will reach the location to offer the services. This will aid in offering same-day services for removing bees from the house. The following are the best reasons to choose our company for instant services:
Local Company: Our Bees Removal Kenwick company is a local-based one that is owned by the locals. Contact us right away to get local bee removal services in Kenwick from us.
Accessibility: If you ever find a beehive in the house wall, you can reach out to us. Our Bees Control Kenwick experts are easily accessible and are available to assist in making your property free from bees.
Prompt Services: If you have a beehive in-house, we are here to offer prompt services and help you in taking the action quickly. If you are someone who is looking for prompt services, you can reach out to us. Without any further delays, we are here to provide you with the services within the timeframe.
Same-day And Emergency Services: For someone who is on the urge of seeking same-day bee removal services or even emergency services, you can just contact us. Once you make an appointment our team will be at your doorsteps within 24 hours of the booking time. Because of all these reasons, our clients often rely on our services for the best outcomes.
FAQs on Bee Removal Kenwick
Can I get the bee control services without any prior booking?
Yes! You can get our bee control services even without making an appointment, but prior booking helps you in getting the services early and has easy access to them.
Do you relocate the beehives?
Yes! Our team is very efficient in relocating the beehives and also in the removal of the bees. We relocate them to places nearer their habitats.
What are the bee types that you deal with?
There are a wide variety of bee types that our team can deal with. Among which the honey bees, bumblebees and carpenter bees are the ones that we deal with the most.