Here Is What You Should Know About The Rats, Mice, And Rodents In Brisbane
Many species have very different characteristics that make them unique. Such as species of rodents that include rats and mice. Many species of pests that come under rodents are highly harmful and their infestation can be highly detrimental. Rodents, rats, and mice are commonly found in grasslands and houses, which are often eaten up by scavengers. They are the primary source of food for various animals including owls, hawks, wolves, foxes, etc. To protect themselves from these, they often enter into human property. This includes any kind of property, be it commercial or residential. They often look for food and shelter. In search of these, they try to infest the properties, steal the food items, and create havoc in the public properties and health, destroying them.
As a result, they destroy human habitats and influence human lifestyle and health. Therefore, people are often concerned about getting rid of rodents including mice and rats. Since these animals are persistently gnawing, they are called "rodents".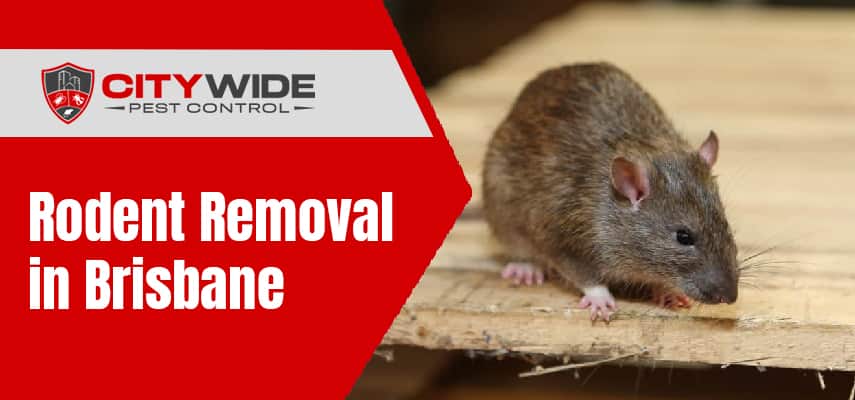 Our Rodent Controllers Can Solve All Your Rat and Mice Issues!
City Wide Pest Control is here to help you out in making your life hassle-free and free from rodents. If you have rodents on your property, then you should get our rodent control Brisbane services. We have highly experienced professionals who can inspect every nook of your property and identify the source of rodent infestation. In addition, our rodent pest control Brisbane experts use the best chemicals for treating rodent infestation. All the services that we offer are going to be extremely safe for you and your family members.
Be it any kind of rodent infestation we have a wide variety of services like rat control Brisbane or mouse control, rat removal or extermination services, and many more. In case you want to know the type of infestation that you are dealing with, it is quite easy to identify that by following certain rules and symptoms. And also with our assistance, it is going to be difficult to deal with these on your own. Hence contacting our rodent control Brisbane experts is the ideal thing that you can do.
Dealing with rodents can be very risky and difficult because they are highly notorious and very escaping in nature. So if you are someone living across Brisbane and facing the issues, you can contact our rodent control Brisbane team. For this, all you need to do is contact us at (0488 851 508). To get early access to our services, you need to make an appointment in advance. This will only help in getting our services promptly without any hassle. So, do seek our help, in case you are having concerns relating to rodents.
Rats And Mice Can Be Extremely Harmful To Your Health And Wellbeing! Here Is How?
These days it has become a challenge to lead a peaceful life, without any diseases! Staying healthy has become a primary requisite, especially when there is a prevalence of any disease or pandemic. In such cases, what if you found out that your property has a rat or mouse infestation? It can be very traumatic. Because rats and mice are proven to be extremely dangerous and can cause a lot of diseases. Not only do they create a mess and chaos on your property, but also interfere with your life and health. The following are the health consequences their infestation might cause:
Being a carrier of several types of diseases, rats and mice are often prone to spreading dreadful diseases.
They cause diseases like:
Hantavirus: It is a life-threatening disease that is transmitted only by rodents.
Bubonic Plague: Commonly called "Black Death". This is often deadly and is very contagious. This is spread by the bite of infected rodents. This leads to painful and swollen lymph nodes, fever, headache, and in severe cases death!
Rat-Bite Fever: This is also a potentially fatal disease that is often caused due to the consumption of food contaminated by infected rats and mice.
They go unnoticed after causing fully-blown diseases and infestations, thus they are the main reason for certain diseases.
By consuming contaminated food, people might experience headaches, muscle pain, vomiting, headache, etc.
Professional Checklist That We Follow To Deal With A Rat Or Mouse Infestation!
To achieve the best results, the rodent control Brisbane team follows the checklist. Before performing the mouse control Brisbane treatment make sure we follow the checklist. This helps in dealing with the infestation effectively:
Make sure that the inspection schedule is prepared.
Eliminating the food sources that are highly attracting the rats and mice.
Clean up the unwanted junk stuff and garbage on your property, and limit the hiding spots.
Blocking all the spots that can access water and food sources.
The rat removal team uses highly effective traps which will make the job easier in catching hold of rats and mice. You can place such traps in areas that have a high traffic of rodents.
Make sure to use EPA-approved rodenticides to kill them. Using these products would be safe for you and your family.
With Our Team In Brisbane On Board, Controlling Or Removing The Rodents Becomes Extremely Easy!
Be it rat control Brisbane or mice removal Brisbane services, our team is extremely talented in getting rid of rodents. Because our company offers especially to all our experts to deal with different types of rodents. Therefore, with our team on board, you can only get the best results. Using the best kind of rodent pest control Brisbaneservices, our company has offered the following services in Brisbane:
Rat Pest Control Service In Brisbane: For pest control Brisbane rats services, you can simply reach out to us. Because rats will not only cause a mess, but also be involved in creating chaos in the property, to avoid this get in touch with our team.
Mice Pest Control Service In Brisbane: Mice removal Brisbane experts are competent in catching the very escaping mice. To catch them, we use the best trapping tools and trap boards for trapping them. For this, we also use baiting methods.
Safe Rat Removal Services In Brisbane: In case you are worried about the safety of you or your family members during the treatment, you don't have to worry about it. Because our rat exterminator Brisbane only uses methods that are safe and effective. Using the best products, we can get the services done, hence contact us.
Mouse Control Services In Brisbane: Be it an individual mouse or a group of them, dealing with them should be an expert's job. Therefore, hire our mouse control Brisbane expert for better outcomes.
Why Choose Our Rodent Control Services?
Our company is the best solution that often provides only the best solutions to our clients. Hence, if you are someone facing issues with rodents and want relief from these annoying creatures, contact us for the best rodent control Brisbane services. The following are the reasons to choose our services:
We have vast exposure in the field of rodent removal, thus we know about everything that is required to make your property rodent-free.
Our team is highly proficient and extremely dedicated to offering the best quality services.
We use the latest trends and follow advanced technology to get great outcomes.
Our customer care team is available 24/7 and is extremely customer-oriented. So if you have any queries, you can get them clarified.
For cost-effective and affordable services, you can simply rely on us.
Enjoy The Perks Of Our Leading Rodent Control Company In Brisbane
Our company is the leading one which is top-rated, that offers the best quality rodent control Brisbane services. By hiring us you can get a wide variety of services under one roof. Our services include rat control Brisbane, mice removal, and various other rodent removal services. Since all our rat and mouse control Brisbaneexperts are extremely experienced, you are only going to experience the best work ethics and can obtain great results. We make sure that your property is free from rodents and has no rodents left, once our services are done. Using efficient equipment and technology, we get the outcomes that we desire. As per requirements and needs, we even customize our services, which will lead to getting great outputs.
So without any further contemplation, you can simply reach out to us to take part in the best workflows.
How Does Our Team In Brisbane Work To Achieve Great Results?
To get great rodent pest control Brisbane results, our team follows certain strategies and correctly executes them. Here is how we do it:
Inspection Of The Infested Area And Its Surroundings: We perform top-notch inspection services in and around the infested area including the common hiding spots of rodents, like attics, roofs, holes, etc. This helps in finding out the source of the infestation and the type of rodents that have entered the property.
Specific Rodent Treatment: Depending on the inspection report, we can now assess the situation of your property. Thus we will now customize the service that is suitable and effective for the infestation. After considering various aspects, we now perform the rodent treatment.
Dead Rodent Treatment: After the treatment, there is a high chance of rodents being dead. Upon exposure to effective rodenticides and pesticides, the rodents can no longer survive. Now we perform the removal of dead rodents.
Set Traps And Baits: If any rodents are left out, these are now caught using traps and baits. We set traps for trapping them effectively and with baiting, we can attract even the hidden rodents. Therefore, it is to ensure that there are no more rodents left on your property.
Tips For Safety: Our rodent control Brisbane team after performing the treatment, will now end the process with safety tips and also preventive measures. We make sure that we have no remnants of rodents and that all the tasks are performed well.
It's A Big No To Have Rats On Your Property! Hence Get Our Rodent Control Services In Brisbane And Nearby Suburbs
It should be a big no to have rats on your property. It will ruin not only your valuable materials but also ruin your mental and physical health. So get in touch with our rat removal Brisbane team for the best results. For prompt services that offer great results, you can rely on us. By following the necessary precautions and rules, we operate all our services efficiently. The following are the rat control services that are available in and around Brisbane:
Brown Rat Control And Removal Brisbane: If you have issues with brown rats in and around Brisbane, you can simply contact us to seek our help. Our certified team will be at your doorsteps to offer the best services.
Black Rat Control And Removal Brisbane: We have the best rat exterminators in Brisbane on our team, therefore if you have black rats around, contact us right away! We will aid in getting rid of them completely.
Norway Rat Control And Removal Brisbane: People often rely on our services, if they have Norway rat control services. We perform both control and removal work, so you don't have to do work. For hassle-free workflow, rely on our rodent control Brisbane team.
Roof Rat Control And Removal Brisbane: Having roof rats can be highly tiring and getting rid of them can be a real hustle. In case you want to get the best results, get in touch with our roof rat removal and control team.
FAQs – Rodent Control Brisbane